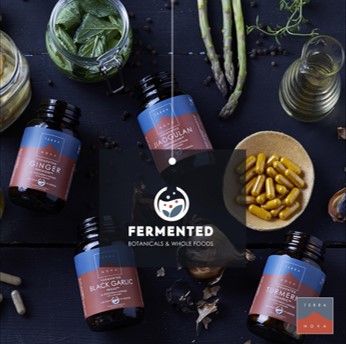 FERMEDICS

– leaders in state-of-the-art botanical fermentation

Terranova is exceptionally proud to be partnering with a pioneer in the realm of fermented material suppliers. Fermedics is a supplier of premium fermented raw materials such as medicinal herbs, mushrooms and probiotics directed to nutraceutical, pharmaceutical and cosmetic industries. Their main purpose is to develop premium botanicals fermented with the right microorganisms and to put 100% natural and highly efficient ingredients into the market.

Fermentation is a natural process in which microorganisms such as yeast and bacteria, along with their enzymes biochemically modify complex carbohydrates into simple sugars, alcohols, organic acids and carbon dioxide. It is essentially pre-digestion of complex foods. This process improves the bioavailability of certain nutrients, as well as increases the antioxidant activity and digestibility of the food.

Fermentation is actually an ancient practice, but our focus is on highly specialized, scientifically-advanced fermentation that unlocks the potent healing and nourishing properties of plants and whole foods in a way, and to a degree, that the body is often incapable of achieving on its own.

Terranova and Fermedics share the common passion for:
High-quality ingredients
Whole, unadulterated plants
Innovative, effective and evidence-based nutrition
Additive-free, excipient-free and 100% vegan supplements
Fermedics adheres to strict global quality standards, starting with selection of raw materials, from quality suppliers worldwide that are both pure and sustainable. Organic and sustainable materials that comply with Fair Trade standards are always the first choice, depending on availability. Fermedics predominantly uses the entire matrix of each herb in the fermentation process.
A distinctive factor in the uniqueness of the Terranova fermented range is the use of specific microbial strains for each product. The research team at Fermedics determines which microbial strains are best suitable for the fermentation of each herb into its secondary metabolites. Only strains with high transforming substance ability are selected for the fermentation process.
Fermedics has rigorous testing procedures to ensure the safety of their ingredients. The purity and identity of their ingredients is tested during the production process. These rigorous testing procedures ensure the safety of their ingredients. All ingredients are regularly tested independently in an EU laboratory for heavy metals, pesticides and microbes.