Terranova
Serum 768 Organic Skin Oil
Rehydrate - Revitalize - Renew
A Unique Serum by Terranova
Keeping firmly in line with Terranova's synergistic formulation concept, Serum 768 Organic Skin Oil has been created to provide deep, pure and intense nourishment to the skin. As with every formulation within the Terranova range of nutritional and botanical supplements, Serum 768 works in an intensely synergistic manner, is precisely balanced, is safe and gentle and contains only active ingredients.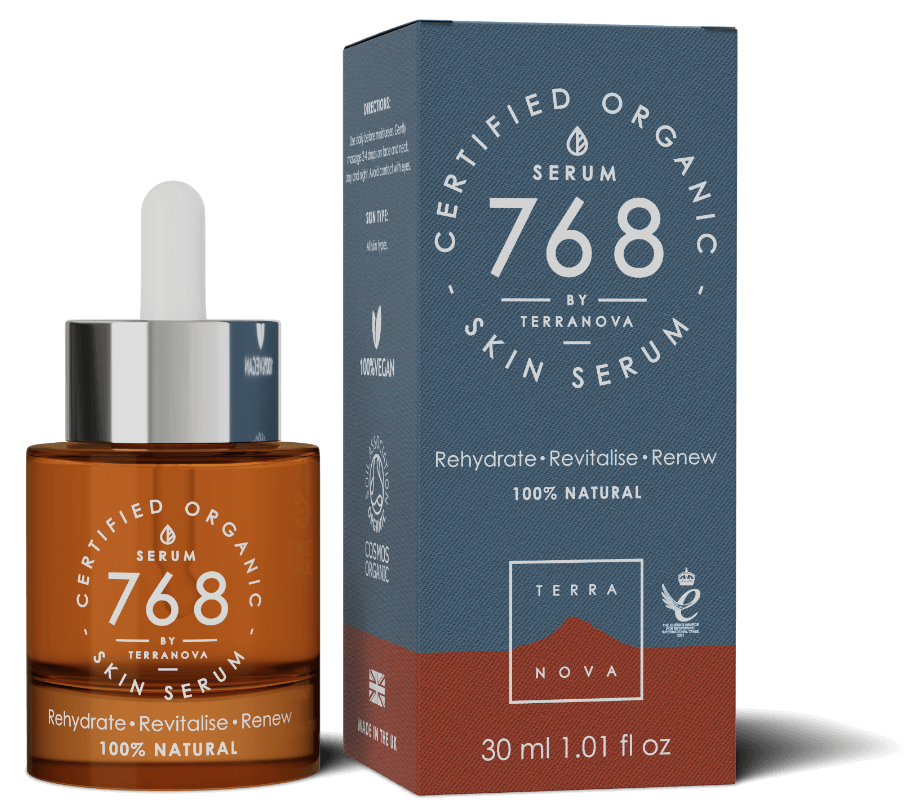 Serum 768 Organic Skin Oil
Terranova Serum 768 Organic Skin Oil is a unique blend featuring 14 carefully selected organic oils, combined with organic extracts of calendula and arnica. All ingredients have been specifically chosen for their skin rejuvenating properties and work synergistically to provide a formula that is deeply nourishing to both healthy and dry skin and intensely restorative to skin that is aged, blemished or otherwise stressed.
Serum 768
How it works
Transepidermal Water Loss (TEWL) is the amount of water that passively evaporates from our skin to the external environment and is an indicator of the integrity of the skin barrier function. It is very important to have ingredients that can help reduce TEWL and strengthen or maintain the skin barrier function.
Ingredients
Serum 768 Organic Skin Oil contains only natural ingredients and is not associated with any allergic reactions or side effects when applied topically. Avoid contact with eyes. Do not apply to broken skin. In the unlikely event of skin irritation, discontinue use.
*Organic Ingredient
+Naturally occurs in essential oils
FREE FROM: Palm Oil, Mineral Oil, Petroleum, Phthalates, Colours, Parabens, Sulphates, Synthetic Fragrance, Silicones, Triethanolamine (T.E.A.), Diethanolamine (D.E.A.), Glycols (including PEG's [Polyethylene Glycols]). Contains Wheatgerm Oil – not guaranteed to be free of gluten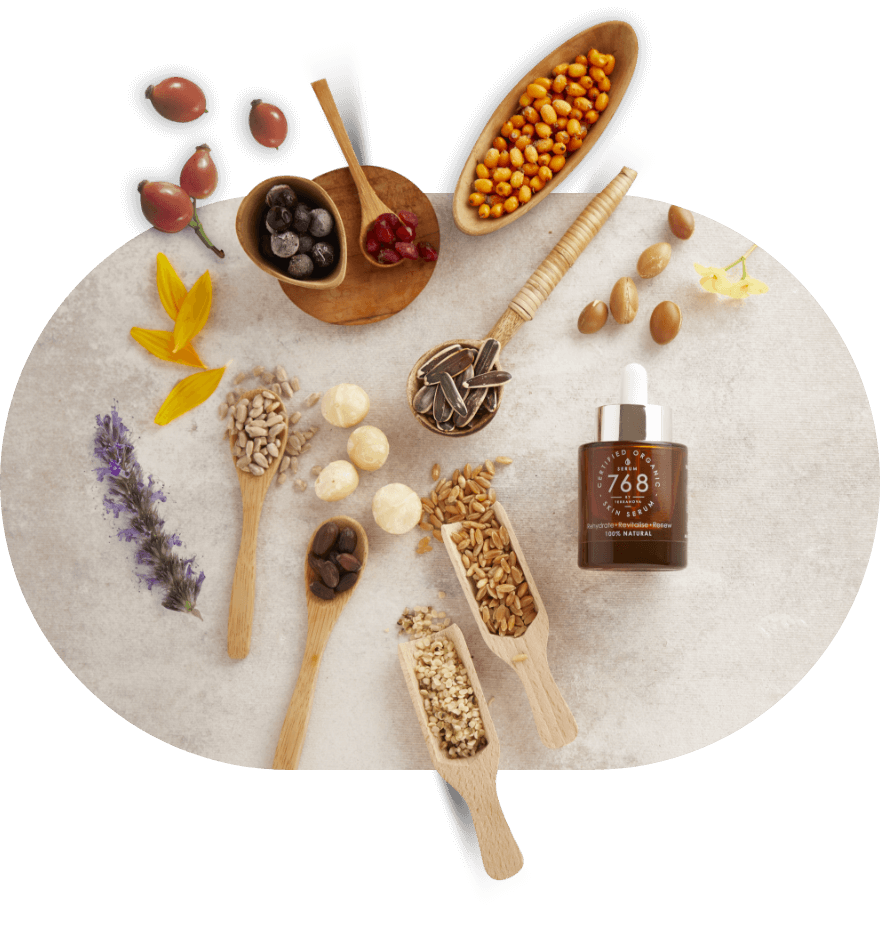 The importance of synergy
As nutritional and botanical synergy is the most significant catalyst to the benefits achieved with our food supplements, the same is true of the catalyst for the benefits from Serum 768. Synergy is NOT dependent on high potencies of individual ingredients in order to provide the addition benefits - synergy will normally be more potent when moderate potencies of a wider variety of carefully selected complementary active ingredients are combined. While many serums on the market have only a few active oils and extracts, Serum 768 contains 16 synergistically combined organic oils and plant extracts aiming at the maximum synergistic action.
WHY 768?
The manufacturer's identity code for our serum's original new product development formulation was No. 768. We liked it, so we chose it for the name!
How to use
*Those who with sensitive skin should examine the ingredients list carefully before application.