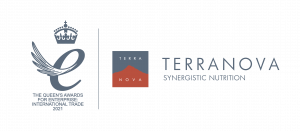 TERRANOVA NUTRITION WINS A QUEEN'S AWARD FOR ENTERPRISE
Terranova are delighted to announce that the company has been honoured with a Queen's Award for Enterprise in the category of International Trade. The award, which is valid for the next five years, is in recognition of demonstrating continuous outstanding growth in international exports over the past several years. The Queen's Awards for Enterprise are the most prestigious business awards in the UK, recognising and celebrating business excellence across Britain.
Founded in 2008, and formulated and manufactured in Britain, Terranova Nutrition is a multi-award-winning supplement company with a range of more than 120 nutritional and botanical products. The company successfully exports to more than 30 countries, in Europe and beyond. Through its highly innovative formulation concept and its unique and uncompromising approach to ingredient selection and standards, Terranova has always led by example in its efforts to help shift the global landscape of the nutritional supplements industry in a significantly more synergistic, more holistic, cleaner and gentler direction.
Terranova products provide four main advantages:
– 100% ADDITIVE-FREE
– Absolutely no fillers, binders or other manufacturing excipients.
– 100% VEGAN
– No animal ingredients – all products suitable for vegetarians and vegans.
– SYNERGISTIC: All nutritional formulations are synergistically enhanced with Magnifood, Terranova's holistic innovation featuring complexes of botanical and wholefood ingredients which are designed to support the bioavailability, utilization and function of the nutrients in the product.
– FRESH FREEZE DRIED, ORGANIC PLANT INGREDIENTS: The majority of the botanical and wholefood ingredients used in Terranova products are fresh freeze dried and certified organic.
Stephen Terrass, Terranova Founder & CEO commented: "We are absolutely overjoyed with the news that Terranova have won a Queen's Award for our sustained success in international trade! We're so grateful to our wonderful international distributors and our amazing team for making all of this possible with their relentless passion, commitment, positivity and hard work over the years. As a British brand with products that are formulated and manufactured in the UK, it's especially humbling to see how Terranova's highly progressive formulation concept, uncompromisingly ethical ingredient standards and relationship-driven business approach has resonated with the distributors, retailers and consumers in so many countries throughout Europe and beyond."
Learn more about Terranova: www.terranovahealth.com
More information about the award:
Established in 1965, the Queen's Awards for Enterprise (#QueensAwards) are the most prestigious business awards in the UK, with winning businesses able to use the esteemed emblem for the next five years.
This year 122 businesses have won a Queen's Award for Enterprise in the International Trade category, with another 83 awards Queen's Awards being given in the categories of Innovation, Sustainable Development and Promoting Opportunity (through Social Mobility).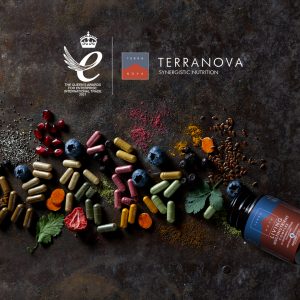 ---