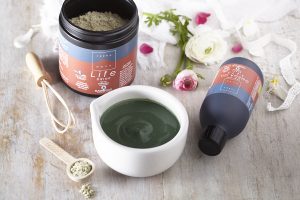 Are you looking for "active ingredients" for your skin care? The importance of antioxidants, enzymes, probiotics, omega fatty acids is underlined not only for your nutrition, but for your beauty too! More and more cosmetics incorporate these ingredients in their formulas, offering deeper and more holistic treatment.
All these active ingredients in their purest form can be found in Terranova Life Drink. Life Drink is a deeply nourishing and intensely synergistic powder, featuring fresh freeze dried botanicals and concentrated wholefoods (10 different berries and 10 intense greens) providing a staggering array of naturally-occurring phytonutrients, micronutrients, enzymes, probiotics, essential fatty acids, fibres and much more!
Add a Life Drink face mask in your weekly beauty routine! The recipe is so simple:
-1 tablespoon Life drink
-½ spoon Terranova Omega oil 3-6-7-9 or rose tonic or water
Mix together. The mixture has to be thick. Apply onto clean skin over the face and neck, avoiding the eye area, making round circles with your fingers. Put some nice music, close your eyes and relax for 10 minutes. Rinse well and apply your moisturizing serum/ cream.
---