We love pumpkins! Not only during Halloween… but everyday!

Are you pumpkin carving these days are aren't sure what to do with those squash insides you're scooping out? Don't throw them out!

Pumpkins and pumpkin seeds are delicious and packed with nutrition. We especially love using pumpkin seeds in our Magnifood complex of many Terranova products. They're rich in nutrients like zinc, magnesium, phosphorus, manganese, copper and iron.

Make this warm and velvety vegan pumpkin soup with a Terranova twist, using both leftover pumpkin flesh and seeds, for a delicious and nutritious meal that screams fall!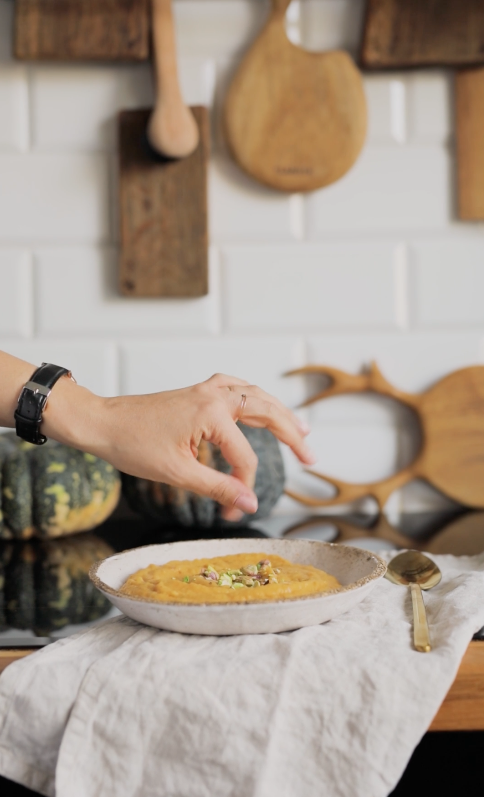 Ingredients:
For the roasted pumpkin seeds:

1 cup raw pumpkin seeds, cleaned
1 Tbsp olive oil
Spices of choice

For the soup:

1 large onion, chopped
3½–4 lb. pumpkin flesh, cubed
200ml vegetable stock
200ml unsweetened coconut milk
2 Tbsp. olive oil
1 tsp salt
1 tsp ground pepper
2 limes, juiced
1 small bunch parsley, chopped
4 Terranova fresh freeze-dried Garlic capsules
2 Terranova fresh freeze-dried Ginger capsules
Instructions:
Preheat oven to 400 F.
Toss raw pumpkin seeds in olive oil and your favorite spices of choice. We love cumin, turmeric, rosemary, salt and pepper.
Roast seeds until browned, about 10-20 minutes. Set aside to cool.

Set oven to 300 F.
Add chopped onion, coarsely cubed pumpkin flesh, vegetable stock and coconut milk to a large pot or Dutch oven.
Cook on medium heat until onion is translucent, about 5–7 minutes.
Bring soup to a boil, then reduce heat to medium-low and simmer, stirring occasionally, until the vegetables are very tender, about 12–14 minutes.
Blend soup using a hand blender!
When cooled slightly, stir in lime juice and contents of opened Terranova garlic and ginger capsules.
Serve soup with a garnish of roasted pumpkin seeds and fresh parsley!

Happy Halloween!
---