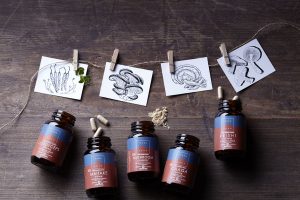 Have you seen our new range of mushroom products? All of the mushrooms used in Terranova products are organic and fresh freeze-dried. Air, oven and spray drying – the standard commercial methods used to dry plant materials – can degrade important compounds and alter a plant's delicate biochemical balance. On the other hand, research shows that fresh freeze-drying actually protects and retains a plant's potency, biochemical integrity and enzymatic activity. In fact, the biochemical profile of a fresh freeze-dried plant very closely resembles the profile of the original fresh plant, but in a much greater concentration, due to the removal of the plant's moisture content. In other words, Terranova fresh freeze-dried botanicals are a highly concentrated version of the original fresh plant.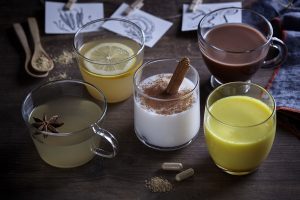 Let's talk drinks: 
Would you like to make your teas and lattes richer in phytonutrients and other bio-active compounds? Medicinal Mushrooms are great ingredient to play with!
Here are some general ideas: 
Many people choose to make a tea from medicinal mushrooms as the hot water may help to extract certain water-soluble compounds in the fungi. You can feel free to prepare Terranova mushroom products this way too. However, Terranova's fungi are fresh freeze dried, which means that the delicate and valuable enzymes are retained in the fungi. These highly sensitive enzymes are damaged by excessively hot temperatures, so in order to preserve the enzymatic benefits Terranova mushrooms, you should NOT add boiling water to the mushrooms to make the tea. Instead you can use warm water, but preferably no more than 50

ₒ

C. If you are preparing a latte, first combine the boiling water with the cold milk, then add in the mushrooms.

Chaga, Maitake and Reishi have a milder taste; if you don't need a sweetener in your normal teas, you will probably appreciate their subtle flavour without added ingredients. Cordyceps has a more bitter flavour, so you may prefer to add this to cacao, maca, lucuma or something with a slightly sweeter taste.

Stir your added mushrooms into your drink thoroughly, as they have a tendency to settle at the bottom of the cup.

Your only limit is your imagination. Get inspired and combine mushroom ingredients with turmeric, ginger, cinnamon, matcha green tea, cacao, maca etc

.
Some recipes ideas:
Maitake Tea: Warm water (preferably not boiling) + 2 Terranova Maitake capsules = so light and lovely!  Star anise will add an extra touch… and of course if you wish you can add your favourite sweetener for a sweeter tea.
Mushroom Synergy Tea: Warm water (preferably not boiling) + 2 Terranova Mushroom Synergy capsules + 1 Terranova Ginger capsule = wonderful and spicy! If you love the zing of ginger, then this one is for you. If you drink your normal tea without sweetener, you won't need it here either!
Cordyceps Cocoa: 1 Terranova Cordyceps capsule + 1 ½ tsp raw cocoa + ½ cup coconut milk + ½ cup warm water + sweetener of your choice (optional)  = Perfect choco blend!
Golden Reishi Milk: 1 Terranova Turmeric capsule + 1 Terranova Reishi capsule + 1 Terranova Ginger capsule + ½ cup warm water + ½ cup plant–based milk + sweetener of your choice = Wow… you must try this!
Chaga Latte: 1 Terranova Chaga capsule + ½ tsp cinnamon + ½ cup warm water + ½ cup plant–based milk + sweetener of your choice = Lovely blend… stir with a cinnamon stick for extra taste and style!
---